1.About After Burner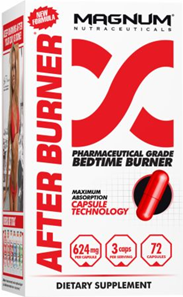 Magnum's After Burner is the most effective night fat burner. In the end of the day, you are asleep, After Burner helps you continue to use fat as energy by:
Ø Supporting fat loss while you sleep
Ø Reduce fat storage
Ø Reduce food eravings and hunger
Ø Increase thermogenesis without stimulants
2.Main ingredients
SESAMIN
It has been shown that sesamin is capable of supporting the health of the liver and kidneys and supports an increase in antioxidant activity by increasing the absorption, use and recycling of vitamin E. As a lipid, sesamin is a dense source of energy that can support mood. Not only that, sesamin has been shown to be used by the endocrine system to maximize the production of anabolic hormones.
HOPS EXTRACT
The fat component of the hops is called isohumulone, which contributes to the bitter taste of the beer. New study reports that heterologous hops extract can reduce body fat by several mechanisms.
FUCOXANTHIN EXTRACT
Fucoxanthin mass increases the amount of energy released in the adipose tissue as heat, and this process is also known as heat production. Fuciformes affect the metabolism of fat in a variety of enzymes, resulting in increased energy generated by fat. The main benefit of fucoidan supplements is weight loss support.
OEA
Oleoylethanolamide (OEA) acts on a receptor called peroxisome proliferator-activated receptor alpha (PPARα). When this receptor is activated, it reduces hunger and produces a full feeling.
PIPERINE
Piperine increases the absorption and effectiveness of all nutrients by increasing the blood supply to the gastrointestinal tract, increasing the intestinal emulsion content. It will increase our active nutrient transport, thereby promoting nutrient absorption
GRAINS OF PARADISE EXTRACT
3.Health Benefits
Ø Help use stored body fat as fuel
Ø Increase body temperature
Ø Increase metabolic rate
Ø Support weight loss
Ø Help reduce hunger and food cravings
4.Suggested use
Take 3 capsules before bed.
5.Warning
Do not use if you are under 16 years of age, pregnant or nursing. Consult your physician before use if you have a medical condition or are taking any prescription.