1.About Nature's Way Turmeric
Turmeric has become a popular herbal supplement due to the potent antioxidant properties of it's active constituent curcuminoids. It is also a popular spice used in curry dishes. Nature's Way standardized Turmeric is a technically advanced herbal extract standardized to 95% curcuminoids. This is the highest concentration of curcuminoids available.Turmeric extract is standardized to 95% curcuminoids, potent antioxidants. Turmeric is a popular spice used in curry dished.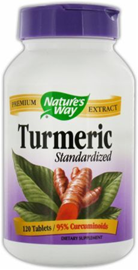 2.Main Ingredients
Total Carbohydrate : Less than 1g;
Turmeric extract (root) 95% curcuminoids : 450mg;
Turmeric (root) : 50mg;
Other Ingredients: Cellulose, Maltodextrin, Stearic acid, Silica, Modified cellulose, Vegetable Glycerin
3.Key benefits
Antioxidant
Popular spice
4.Suggested use
Take 1 tablet three times daily with food or water.
5.Warning
If you are pregnant, breastfeeding or taking any medications, consult a health care professional before use.
KEEP OUT OF REACH OF CHILDREN.