Have you remembered the plot of the film in the The Patriot? An American town was attacked by a strange virus. Later, the local residents found that someone would be safe after eating Echinacea.Then an "Echinacea" health boom was set off in Europe and the United States due to the release of the film.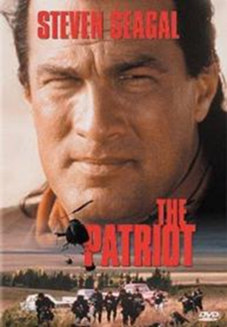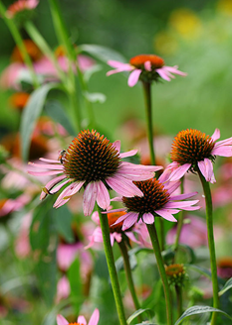 Echinacea is also called the magic herb that can bring health to people.And echinacoside,a compound existing in Echinacea,is also valuable in clinical use and health care.
Well,what is echinacoside? Echinacoside is a natural compound isolated from the medicinal plants Cistanche and Echinacea.[1-2] And it was first isolated by Stoll et al. in 1950.[3]
Echinacoside is a natural phenol. It is a caffeic acid glycoside from the phenylpropanoid class. It is constituted from a trisaccharide consisting of two glucose and one rhamnose moieties glycosidically linked to one caffeic acid and one dihydroxyphenylethanol (hydroxytyrosol) residue at the centrally situated rhamnose.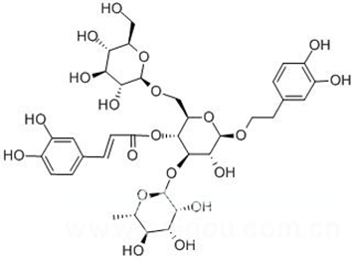 In addition to anti-virus, echinacoside has many other benefits. It has been shown to possess versatile health promotional and disease preventive properties, including neural protection, hepatoprotection, andanti-inflammation, antifatigue, antisenescence and antidiabetes.
Neural Protection
Excitotoxicity, a pathological process caused by excessive glutamate release and glutamate receptor activation, is the major cause of neuronal death in acute and chronic brain disorders such as stroke, traumatic brain injury, Parkinson's, and Alzheimer's diseases.[4]
Echinacoside has been confirmed to penetrate the blood-brain barrier (BBB).And it exhibits neuroprotective effects in various in vivo models of neurotoxicity .[5-6]Although the mechanism of these neuroprotective effects is not completely understood, several possible mechanisms have been reported including inflammatory response inhibition, mitochondrial function stabilization, antioxidation, free radical scavenging, and neurotrophic function mimicking.[6-7] Another study suggested that the ability of echinacoside to reduce glutamate release from nerve terminals may also partly explain its neuroprotective mechanism.[8]
Bone Loss Prevention (Antiosteoporotic Activity)
Most of osteoporotic patients arepostmenopausal women, and the estrogen deficiency is the pre-dominant cause of rapid hormone-related bone loss during the firstdecade after menopause. Echinacoside, as a new class of phytoestrogen, has a remarkable antiosteoporotic activity.
According a research[9],Micro-CT analysis results of distal femur showed that all echinacoside-treated groups notably enhanced bone quality compared to ovariectomized(OVX) group. Consistent with this finding, total femur bone mineral densi (BMD)and biomechanical strength of tibia were significantly improved after 12 weeks echinacoside administration. Histological results also showed the protective activity of echinacoside through promotion of bone formation and suppression of bone resorption.These results showed that echinacoside has a notable antiosteoporotic effect, similar to estrogen, especially effective for prevention osteoporosis induced by estrogen deficiency.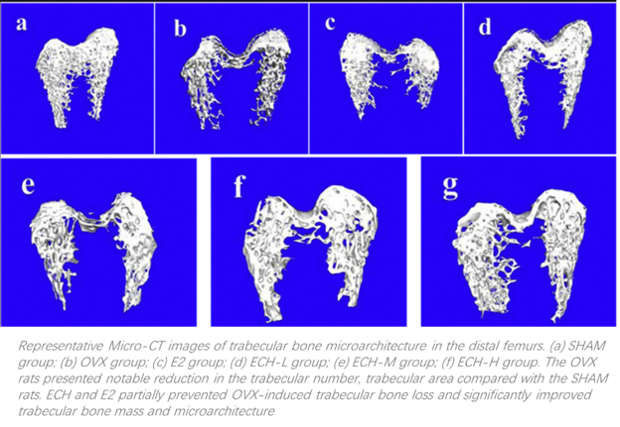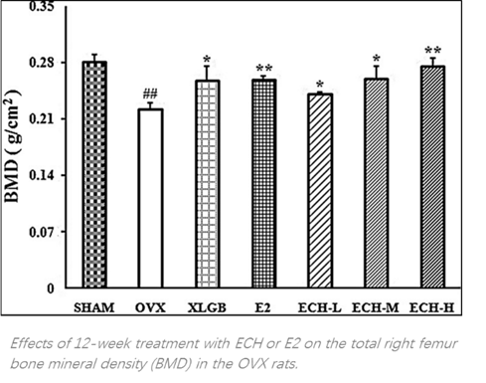 Sperm Protection
Male infertility is one of the major health issues as it is esti-mated that 4.2% of male are infertile in the world.
Echinacoside has been used as a tonic agent to cure reproductive dysfunction and toboost male sexual function by protecting sperm and increasing theproduction of testosterone. The modern pharmacological investigations have shown that echinacoside can stimulate the hypothalamus-pituitary-gonad(HPG) axis.And echinacoside ameliorate bisphenol A-induced testicular and sperm damage in rats through gonad axis regulated steroidogenic enzymes[10].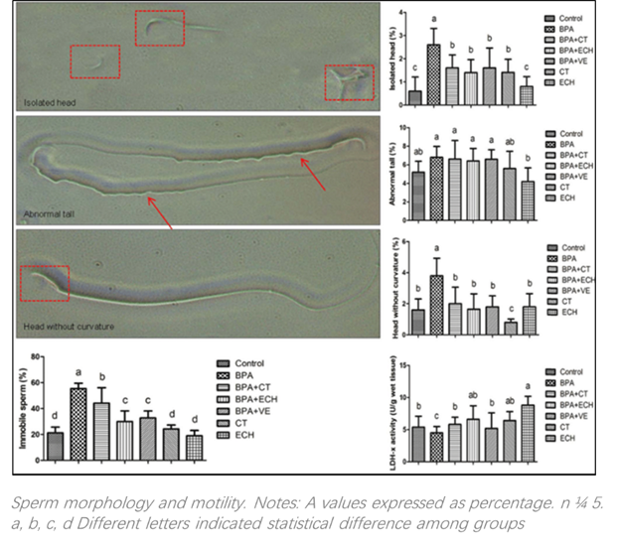 Hepatoprotection
D-galactosamine (GalN) and lipopolysaccharide (LPS) can lead to acute liver injury in mice,evidenced by significantly elevated plasma alanine aminotransferase (ALT) levels and abnormal histological changes such as hepatocyte necrosis or apoptosis, hemorrhage, fatty degeneration, and neutrophil infiltration.
Notably, pretreatment with echinacoside remarkably improved the survival rate of GalN/LPS-treated mice and attenuated acute hepatotoxicity, as demonstrated by decreased ALT levels and improved histological signs. Echinacoside shows both anti-apoptotic and anti-inflammatory properties, characterized by a substantial inhibition of hepatocyte apoptosis and a significant reduction in the inflammatory markers, including myeloperoxidase, extracellular nucleosomes, high-mobility group box 1, and inflammatory cytokines in the plasma of mice, which may be important mechanisms related to its protective effect.[11]
Vasodilatation
Sustained pulmonary vasoconstriction as experienced at high altitude can lead to pulmonary hypertension (PH) and medial hypertrophy[12], which have been identified as the main cause of right ventricular hypertrophy and heart failure[13].
Echinacoside induces vasorelaxation in rat pulmonary arteries precontracted with NE, and such an effect can be observed in both intact endothelium and endothelium-denuded rings. This is most likely related to the opening of the NO-cGMP-PKG-BKCa channels and the reduction of intracellular Ca2+ levels, thereby relaxing the PASMCs.[14]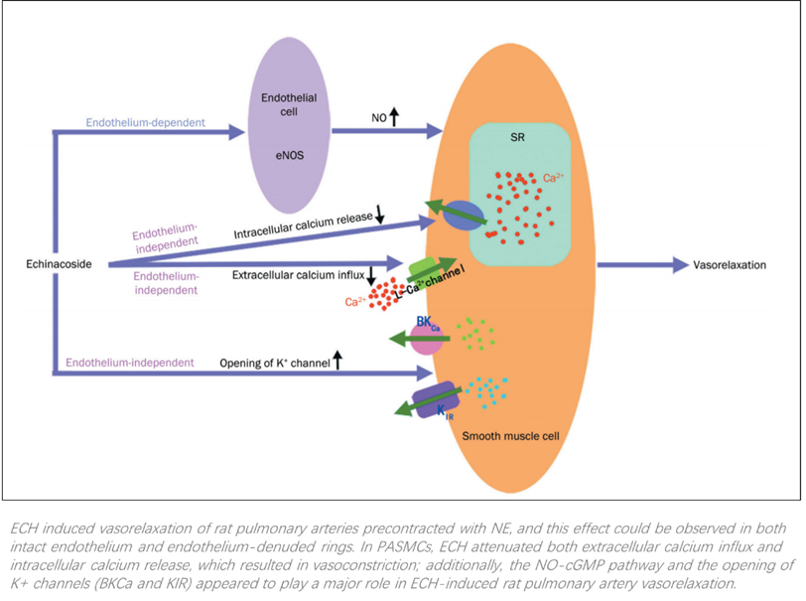 A major limitation reported in the meta-analyses of available trial data was the lack of standardization of echinacoside preparations[15].
As for achinacea, recommended dosing (all administered 3 times daily) includes 300 mg dry powdered extract (standardized to echinacoside 3.5%).And if it use for more than 8 weeks at a time should be avoided because of the potential for immune suppression. [16]
Now,I believe you must have a better understanding of echinacoside. Its existence has made some contribution to human health.
Reference
[1]Wang Y, Hao H, Wang G, et al. An approach to identifying sequential metabolites of a typical phenylethanoid glycoside, echinacoside, based on liquid chromatography-ion trap-time of flight mass spectrometry analysis. Talanta. 2009;80(2):572–580.
[2]Hudson JB. Applications of the phytomedicine Echinacea purpurea (purple coneflower) in infectious diseases. J Biomed Biotechnol. 2012.
[3]Stoll, A.; Renz, J.; Brack, A. (1950). "Isolierung und Konstitution des Echinacosids, eines Glykosids aus den Wurzeln von Echinacea angustifolia D. C. 6. Mitteilung über antibakterielle Stoffe". Helvetica Chimica Acta. 33 (6): 1877–1893.
[4]Meldrum, B.S. Glutamate as a neurotransmitter in the brain: review of physiology and pathology. J. Nutr. 2000, 130, 1007S–1015S.
[5]Zhu, M.; Lu, C.; Li, W. Transient exposure to echinacoside is sufficient to activate Trk signaling and protect neuronal cells from rotenone. J. Neurochem. 2013, 124, 571–580.
[6]Zhang, D.; Li, H.; Wang, J.B. Echinacoside inhibits amyloid fibrillization of HEWL and protects against Aβ-induced neurotoxicity. Int. J. Biol. Macromol. 2015, 72, 243–253
[7]Deng, M.; Zhao, J.Y.; Tu, P.F.; Jiang, Y.; Li, Z.B.; Wang, Y.H. Echinacoside rescues the SHSY5Y neuronal cells from TNFalpha-induced apoptosis. Eur. J. Pharmacol. 2004, 505, 11–18.
[8] Wei L C, Yu L T, Huang S K, et al. Echinacoside Inhibits Glutamate Release by Suppressing Voltage-Dependent Ca2+Entry and Protein Kinase C in Rat Cerebrocortical Nerve Terminals:[J]. International Journal of Molecular Sciences, 2016, 17(7):1006.
[9]Li F, Yang X, Yang Y, et al. Antiosteoporotic activity of echinacoside in ovariectomized rats[J]. Phytomedicine, 2013, 20(6):549.
[10]Jiang Z, Wang J, Li X, et al. Echinacoside and Cistanche tubulosa (Schenk) R. wight ameliorate bisphenol A-induced testicular and sperm damage in rats through gonad axis regulated steroidogenic enzymes[J]. Journal of Ethnopharmacology, 2016, 193:321-328.
[11]Li X, Gou C, Yang H, Qiu J, Gu T, Wen T. Echinacoside ameliorates D-galactosamine plus lipopolysaccharide-induced acute liver injury in mice via of apoptosis and inflammation. Scand J Gastroenterol. 2014 Aug;49(8):993-1000.
[12]Hultgren HN, editor. High Altitude Medicine. Stanford: Hultgren Publications; 1997.
[13]Humbert M, Sitbon O, Simonneau G. Treatment of pulmonary arterial hypertension. N Engl J Med 2004; 351: 1425-36.
[14]Gai X, Wei Y, Zhang W, et al. Echinacoside induces rat pulmonary artery vasorelaxation by opening the NO-cGMP-PKG-BKCa channels and reducing intracellular Ca2+ levels[J]. 中国药理学报, 2015, 36(5):587-596.
[15]Barnes J , Anderson LA , Gibbons S , Phillipson JD . Echinacea species ( Echinacea angustifolia (DC.) Hell., Echinacea pallida (Nutt.) Nutt., Echinacea purpurea (L.) (Moench): a review of their chemistry, pharmacology and clinical properties . J Pharm Pharmacol . 2005;57(8):929-954.
[16]35. Linde K , Barrett B , Wölkart K , Bauer R , Melchart D . Echinacea for preventing and treating the common cold . Cochrane Database Syst Rev . 2006;(1)