Asthma is a common long-term inflammatory disease of the airways of the lungs. It is characterized by variable and recurring symptoms, reversible airflow obstruction, and bronchospasm. Symptoms include episodes of wheezing, coughing, chest tightness, and shortness of breath. These episodes may occur a few times a day or a few times per week. Depending on the person, they may become worse at night or with exercise. So it is not difficult to imagine that asthma patients are very painful.
In traditional medicine, herbal extracts are often applied in treatment of asthma, and the search for natural components has become promising to discover new anti-asthmatic drugs. Extracts of roots of licorice (Glycyrrhiza glabra) have been applied in treatment of a large variety of diseases. The triterpene glycoside glycyrrhizic acid (GA) is one of the major active constituents of licorice .It has been used as a hepatoprotective drug, and recent studies also revealed its anti-asthmatic effects. This finding is good news for asthma patients.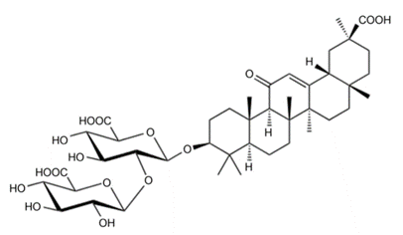 How does GA exert its anti-asthmatic effects?
Asthma is a disease characterised by reversible contraction of airway smooth muscle (ASM). Several signalling pathways are now known to be related to the process of ASM contraction, and almost all of them involve Ca2+ handling . Cytoplasmic Ca2+ activity ( 2 Cai + ) homeostasis is controlled by several ionic signalling mechanisms, one of which is the reversed mode of the Na+ /Ca2+ exchanger (NCX) of the plasma membrane. Although little is currently known about NCX in the airways and its involvement in asthma, some investigators have shown that expression and function of the isoform 1 of the exchanger (named NCX1) in ASM is up-regulated in asthmatic animals and inhibition of NCX may ameliorate the symptoms of asthma. This observation makes NCX a potential target for asthma treatment.
Does GA interfere with NCX1, and hence play a role in asthma?
In order to prove this conjecture, Laudenbach J's group did some experiments.They used Xenopus oocytes with heterologously expressed NCX1 as a model system, and Ni2+ as specific inhibitor of the exchanger. Effects on NCX1- mediated current could only be investigated as Ni2+-sensitive current in the presence of niflumic acid to block Ca2+-activated Cl− -currents and at lowered external Cl− activity. Otherwise the Ni2+-dependent current also included a large component of Ca2+-activated Cl− current (compare [27]). Since the oocytes have functionally expressed only a limited number of endogenous membrane proteins, the application of this model system allows investigating effects on NCX with low background signals and restricted interference with other membrane proteins.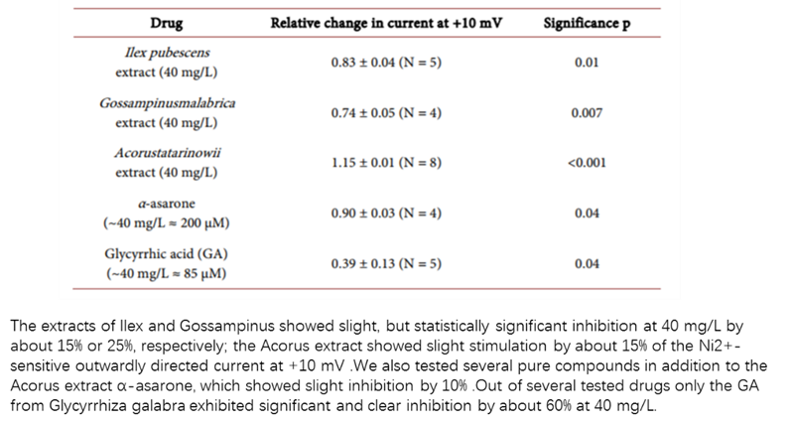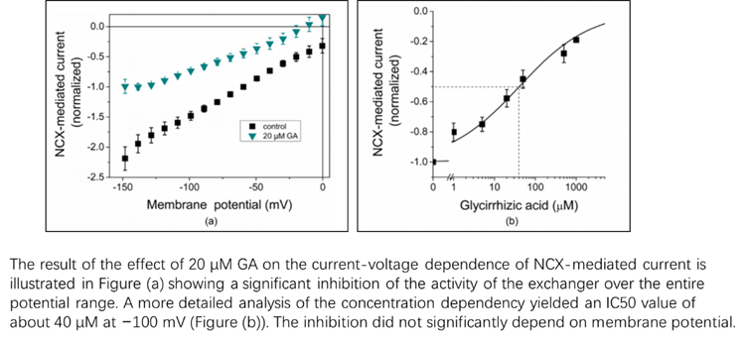 Their drug screening revealed that GA is a potent inhibitor of NCX1. Though their measurements with GA were performed on the forward mode of NCX1, the screening experiments with effects on the outward-directed current at +10 mV indicate that also the reversed mode can be inhibited.
In conclusion, their data suggest that GA may contribute via inhibition of reversed NCX to reduced refilling of 2 Cai + stores, which can promote reduced contraction of ASM, reduced airway restriction, and thus relieve the asthmatic symptoms.
Reference
[1]Laudenbach J, Wang Y, Xing B, et al. Inhibition of the Na+/Ca2+ Exchanger NCX1 Expressed in Xenopus Oocyte by Glycyrrhizic Acid and Cyclophylin A[J]. Journal of Biosciences & Medicines, 2017, 05(3):128-141.
[2] Janssen, L.J. and Killian, K. (2006) Airway Smooth Muscle as a Target of Asthma Therapy: History and New Directions. Respiratory Research, 7, 123.
[3] Hirota, S., Pertens, E. and Janssen, L.J. (2007) The Reverse Mode of the Na+/Ca2+ Exchanger Provides a Source of Ca2+ for Store Refilling Agonist-Induced Ca2+ Mobilization.American Journal of Physiology Lung Cellular Molecular Physiology, 292,L438-L447.
[4] Janssen, L.J. (2009) Asthma Therapy: How Far Have We Come, Why Did We Fail and Where Should We Go Next. European Respiratory Journal, 33, 11-20.
[5] Li, J.Y., Cao, H.Y., Liu, P., Cheng, G.H. and Sun, M.Y. (2014) Glycyrrhizic Acid in the Treatment of Liver Diseases: Literature Review. Glycyrrhizic Acid in the Treatment of Liver Diseases: Literature Review, 2014, Article ID: 872139.
[6] Ma, C., Ma, Z., Liao, X.L., Liu, J., Fu, Q. and Ma, S. (2013) Immunoregulatory Effects of Glycyrrhizic Acid Exerts Anti-Asthmatic Effects via Modulation of Th1/Th2 Cytokines and Enhancement of CD4(+) CD25(+) Foxp3+ Regulatory T Cells in Ovalbumin-Sensitized Mice. Journal of Ethnopharmacology, 148, 755-762.
[7] Ram, A., Mabalirajan, U., Das, M., Bhattacharya, I., Dinda, A.K., Gangal, S.V. and Ghosh, B. (2006) Glycyrrhizin Alleviates Experimental Allergic Asthma in Mice. International Immunopharmacology, 6, 1468-1477.
[8] Kao, T.C., Wu, C.H. and Yen, G.C. (2013) Glycyrrhizic Acid and 18â-Glycyrrhetinic Acid Recover Glucocorticoid Resistance via PI3K-Induced AP1, CRE and NFAT Activation. Phytomedicine, 20, 295-302.
[9] Wu, Q., Tang, Y., Hu, X., Wang, Q., Lei, W., Zhou, L. and Huang, J. (2016) Regulation of Th1/Th2 Balance through OX40/OX40L Signalling by Glycyrrhizic Acid in a Murine Model of Asthma. Respirology, 21, 102-111.