Diabetes, often referred to by doctors as diabetes mellitus, describes a group of metabolic diseases in which the person has high blood glucose (blood sugar), either because insulin production is inadequate, or because the body's cells do not respond properly to insulin, or both. Patients with high blood sugar will typically experience polyuria (frequent urination), they will become increasingly thirsty (polydipsia) and hungry (polyphagia).
Diabetes mellitus is one of the most devastating metabolic disorders and one of the leading causes of death worldwide . Several classes of oral anti-diabetic agents have been developed in the second half of the last century targeting this ailment. These main classes include agents that improve insulin sensitivity (thiazolidinediones), stimulate insulin secretion (sulfonylureas and rapid-acting secretagogues), reduce hepatic glucose production (biguanides) or delay digestion and absorption of intestinal carbohydrates (alpha-glucosidase inhibitors). Despite the relative success of these compounds in controlling diabetic mellitus and its complications, the long-term use of these agents is usually accompanied with several undesirable side effects, such as low blood glucose, weight gain, stomachache, diarrhea, anemia or bone fracture in women.
In order to treat diabetes more effectively and safely, a lot of researches have been done.Some people recommended ginger powder to be one of the dietary supplements for diabetic patients because they found it has anti-diabetic activity in several animal studies and clinical trials . However, some others said that ginger consumption had an insignificant effect on blood glucose and blood lipids. Why is it different? This discrepancy was attributed to the use of unstandardized ginger powder with different concentrations of the active constituents in each study [18]. Therefore, in order to introduce ginger as a potential anti-diabetic agent, it is necessary to evaluate the anti-diabetic, as well as the anti-hyperglycemic and anti-hyperlipidemic effects of its major active constituents.
So the group of Wei C K. prepared 10 ginger active components, namely 6-, 8-, 10-paradols, 6-, 8-, 10-shogaols, 6-, 8-, 10-gingerols and zingerone, and evaluated their anti-hyperglycemic activity.
And their results showed that both 6-shogaol and 6-paradol improved glucose utilization in both adipocytes and muscle cells with or without insulin. This effect indicates that 6-shogaol and 6-paradol enhance glucose utilization via a distinct pathway independent of insulin. Furthermore, the results demonstrated the inhibitory effect of 6-shogaol and 6-paradol on lipid synthesis in 3T3-L1 adipocytes. The close relationship between diabetes and obesity implies that an ideal anti-diabetic agent should act in a dual mode through targeting high blood glucose, as well as lipid accumulation. Pioglitazone, an anti-diabetic agent, acts by decreasing blood glucose, but it does not inhibit lipid accumulation in adipocytes. However, our preliminary results revealed that 6-shogaol and 6-paradol not only promoted glucose utilization, but they also inhibited lipid synthesis by adipocytes.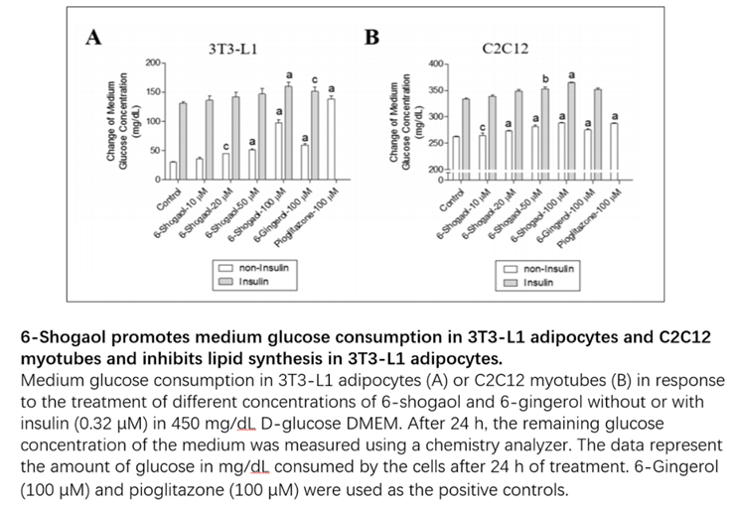 Maybe you will be confused: 6-, 8- or 10-shogaol possess the same aryl moiety,why their anti-diabetic activity is different? Because the length of their unbranched alkyl chain is different. Accumulated evidence suggested that the side chain length of shogaol derivatives influences their biological activity. And a shorter carbon side chain (6-shogaol and 8-shogaol) exerted stronger activity in promoting glucose utilization. Interestingly, the shogaols present in ginger are then partly transformed to paradols upon cooking; once consumed, shogaols are metabolized to paradols in the body.
Furthermore, 6-paradol, a metabolite of 6-shogaol, was utilized in the high-fat diet mouse model. 6-Paradol decreased blood glucose, cholesterol and body weight.
In conclusion , the findings of Wei C K's group suggested that previously-reported different effects of ginger powder on hyperglycemia may be attributed to the degradation and metabolic changes of ginger compounds. In addition ,6-paradol could be considered as an active anti-hyperglycemic component of ginger. For diabetes, these findings may be a good new.
Reference
[1]Wei C K, Tsai Y H, Korinek M, et al. 6-Paradol and 6-Shogaol, the Pungent Compounds of Ginger, Promote Glucose Utilization in Adipocytes and Myotubes, and 6-Paradol Reduces Blood Glucose in High-Fat Diet-Fed Mice[J]. International Journal of Molecular Sciences, 2017, 18(1).
[2] Butt, M.S.; Sultan, M.T. Ginger and its health claims: Molecular aspects. Crit. Rev. Food Sci. Nutr. 2011, 51,383–393.
[3] Shukla, Y.; Singh, M. Cancer preventive properties of ginger: A brief review. Food Chem. Toxicol. 2007, 45,683–690.
[4].Al-Suhaimi, E.A.; Al-Riziza, N.A.; Al-Essa, R.A. Physiological and therapeutical roles of ginger and turmeric on endocrine functions. Am. J. Chin. Med. 2011, 39, 215–231.
[5] White, B. Ginger: An overview. Am. Fam. Physician 2007, 75, 1689–1691.
[6] Fang, Y.P.; Chuang, C.H.; Wu, P.C.; Huang, Y.B.; Tzeng, C.C.; Chen, Y.L.; Liu, Y.T.; Tsai, Y.H.;Tsai, M.J. Amsacrine analog-loaded solid lipid nanoparticle to resolve insolubility for injection delivery:Characterization and pharmacokinetics. Drug Des. Dev. Ther. 2016, 10, 1019–1028