Betaine for hepatoprotection
2017-10-16

0

8010
Nonalcoholic Fatty Liver (NAFL) is defined as the presence of increased fat in the liver that is not caused by alcohol consumption. Most commonly, NAFL is associated with obesity and insulin resistance/diabetes. NAFL is present in 17–33% of Americans and is associated with liver cirrhosis and an increased risk of atherosclerosis and hepatocellular carcinoma. The pathogenesis of hepatic fat accumulation in NAFL is incompletely understood. Proposed mechanisms include increased fat consumption, persistent lipolysis in adipocytes (increased delivery of fat to liver, increased de novo lipogenesis in the liver, and decreased export of very low-density lipoprotein (VLDL) from hepatocytes.

There is no effective or generally accepted treatment for NAFL. Betaine is a naturally occurring dietary compound that is also synthesized in vivo from choline. In vivo, betaine acts as a methyl donor for the conversion of homocysteine to methionine and it also functions as an osmolyte. Oral betaine treatment has been evaluated in the treatment of alcoholic liver disease.
Reduced hepatic fat accumulation
10 in each group were studied: groups 1-3 were fed for 7 mo whereas groups 4-6 were fed for 8 mo. The first group [standard fat (SF)] was fed standard rodent chow which contains 9% of calories from fat, 33% from protein, and 53% from carbohydrate. The second group [moderately high fat (mHF)] was fed rodent chow for pregnant and lactating mice , which is a nutritionally complete diet containing ∼20% of calories from fat, 23% from protein, and 50% from carbohydrate. The third group was fed Teklad 8626 and had 1.5% betaine hydrochloride (wt/vol) added to the drinking water (mHFB).

Histology of liver from SF shows normal liver; mHF liver shows 2+ macrovesicular fat and 2+ microvesicular fat predominately in the perivenular areas; and mHFB liver shows no macrovesicular or microvesicular fat accumulation.
On histological examination, macro- and microvesicular fat were increased in mHF compared with SF. Supplementation of betaine significantly reduced hepatic fat accumulation. Total pathology score (includes macro fat, micro fat, inflammation, and necrosis) showed greater liver injury in mHF than SF and mHFB.
Lower blood glucose
Two weeks before euthanasia, mice were fasted overnight and blood was drawn from the saphenous vein for assessments of fasting plasma insulin (Ultra Sensitive Rat Insulin ELISA kit, Crystal Chem, Downers Grove, IL) and glucose (AccuCheck Glucometer, Roche Diagnostics). One week before euthanasia, a glucose tolerance test was performed on fasted mice by intraperitoneal injection of 1.5 mg glucose/g body wt followed by measurement of blood glucose (tail) at every 15 min for first hour and every 30 min for the second hour (AccuCheck Glucometer, Roche Diagnostics).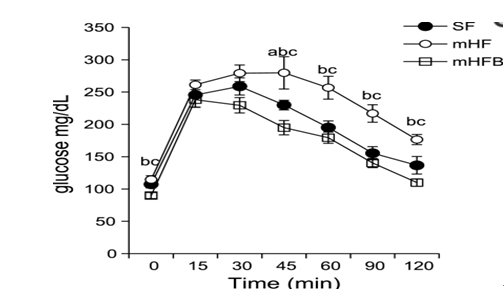 Glucose tolerance test. Animals were fasted overnight, and 0 time glucose was measured by tail snip. Mice were injected with 1.5 mg glucose/g body wt ip. Blood glucose was measured every 15 min for the 1st hour and every 30 min for the 2nd hour.
Betaine treatment reduced fasting glucose to normal and reduced fasting insulin toward normal (P = 0.02 vs. mHF). During glucose tolerance testing, blood glucose level was significantly higher in mHF compared with mice fed SF or mice fed mHFB at all time points from 45 min through 2 h.
In conclusion, ad libitum feeding of a nutritionally complete, moderately high-fat diet to male mice produced insulin resistance, obesity, and histological NAFL. Mice with NAFL have decreased hepatic betaine content. Oral betaine supplementation prevented hepatic betaine deficiency and reversed insulin resistance.