Cardiac hypertrophy is the myocardial response to various pathological heart diseases, including hypertension, myocardial ischemia, valve disease, and heart failure. Cardiac hypertrophy is characterized by an enhanced protein synthesis, increase in cell size, and heightened organization of the sarcomere. Sustained pathological hypertrophy leads to cardiac remodeling, which is associated with increased interstitial fibrosis and impaired cardiac function.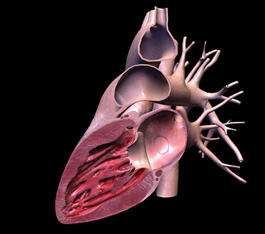 Recent evidence has revealed that ERS plays a pivotal role in the pathogenesis of heart diseases. Apoptotic signals are initiated by the ER, led by induction of CCAAT/enhancer binding protein [C/EBP] homologous protein (CHOP) in heart failure. Cardiac pressure overload is associated with high protein synthesis and Ca2+ dysregulation that may lead to sustained ERS, followed by myocardial apoptosis and fibrosis during the transition from cardiac hypertrophy to heart failure.
A new paper from S Rani's group which published in NCBI evaluated the effects of TUDCA on pressure overload-induced cardiac remodeling, with respect to myocardial hypertrophy, apoptosis, fibrosis, and associated gene expression. Their results showed that the oral administration of TUDCA attenuated pathological cardiac remodeling by alleviating ERS, suggesting that TUDCA can be a potential therapeutic agent to suppress maladaptive cardiac remodeling.
In their experiment,they used an animal model of TAC. And the specific findings of the experiment are as follows:
1.TUDCA (oral administration at 300 mg/kg BW) reduced expression of the ERS proteins in the TUDCA-TAC group, compared to Veh-TAC group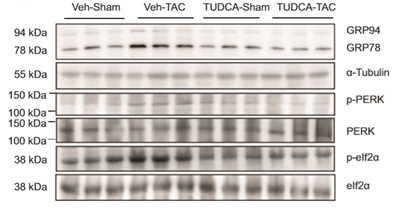 Tauroursodeoxycholic acid (TUDCA) attenuated endoplasmic reticulum stress (ERS) responses in transverse aortic constriction (TAC)-induced hypertrophic hearts.

Expression levels of the chaperone proteins GRP78, and GRP94 and the ERS signaling pathway proteins p-PERK and p-eIF2αwere significantly increased at 4 weeks after TAC. The western blotting results of whole heart homogenates were obtained from shamand TAC-operated mice administered vehicle and TUDCA (300 mg kg−1 day−1).
2.TUDCA reduced myocardial hypertrophy in TUDCATAC group, compared to the Veh-TAC group

Tauroursodeoxycholic acid (TUDCA) administration reduced hypertrophy in transverse aortic constriction (TAC)-induced hypertrophic hearts.

Representative images of whole-heart cross sections obtained by microscopic analysis (hematoxylin-eosin stain) (scale bar = 2 mm).
3.TUDCA ameliorated cardiac apoptosis in the TUDCA-TAC group, compared to the Veh-TAC group

4.TUDCA improved cardiac function as suggested by the increased left ventricular fractional shortening (LVFS)
5.The microarray data showed that TUDCA administration globally normalized altered gene expressions responsible for the cardiac maladaptations by TAC
In conclusion, TUDCA effectively suppressed mouse cardiac remodeling by TAC via alleviation of ERS. S Rani's study may provide important insights into the cardio-protective effects of TUDCA, which may be clinically relevant for treatment of pressure overload induced cardiac malfunctions.
Expanding Reading
ERS
The endoplasmic reticulum (ER) plays an important role in maintaining cellular homeostasis. Any perturbation, such as elevated protein synthesis, ischemia, gene mutations, free-radical exposure, or hypoxia can disturb ER homeostasis and cause the pathological accumulation of unfolded/ misfolded proteins in the ER, a condition called ER stress (ERS). This subsequently triggers an evolutionarily conserved response called the unfolded protein response (UPR).
TUDCA
TUDCA is a nontoxic taurine conjugate form of ursodeoxycholic acid (UDCA) which is an endogenously produced hydrophilic bile acid. In the last decade, TUDCA has been widely studied for its function as a chemical chaperone and its ability to ameliorate ERS and cure various diseases such as biliary fibrosis, pulmonary fibrosis, retinal degeneration , neurodegenerative diseases (e.g. Alzheimer's, Huntington's and Parkinson's diseases) and glucose malfunction.
References

Image Source :www.vcg.com
[1]Rani S, Sreenivasaiah P K, Jin O K, et al. Tauroursodeoxycholic acid (TUDCA) attenuates pressure overload-induced cardiac remodeling by reducing endoplasmic reticulum stress[J]. Plos One, 2017, 12(4):e0176071.
[2]Frey N, Katus HA, Olson EN, Hill JA. Hypertrophy of the heart a new therapeutic target? Circulation. 2004; 109:1580–1589.
[3]Yoshida H. ER stress and diseases. FEBS J. 2007; 274:630–658.
[4]Kaufman RJ. Stress signaling from the lumen of the endoplasmic reticulum: coordination of gene transcriptional and translational controls. Genes Dev. 1999; 13:1211–1233.
[5]Groenendyk J, Sreenivasaiah PK, Kim DH, Agellon LB, Michalak M. Biology of endoplasmic reticulum stress in the heart. Circ Res. 2010; 107:1185–1197.
[6]Minamino T, Komuro I, Kitakaze M. Endoplasmic reticulum stress as a therapeutic target in cardiovascular disease. Circ Res. 2010; 107:1071–1082.