An alternative immune-regulators- Apigenin
2017-10-16

0

7615
The increasing prevalence of inflammatory diseases and the adverse effects associated with the long-term use of current anti-inflammatory therapies prompt the identification of alternative approaches to reestablish immune balance. Apigenin, an abundant dietary flavonoid, is emerging as a potential regulator of inflammation. Apigenin can be found in high amounts in several herbs including parsley, thyme, and peppermint. It is also found in a number of other herbs, including chamomile herb, Horsetail herb, lemon balm herb, perilla herb, vervain herb.

Inflammation is a normal central mechanism of host immune surveillance in response to infections. However, dysregulated inflammation leads to systemic activation of the host immune response, tissue injury and, ultimately, organ failure. Hence, dysregulated inflammation has been implicated in the pathophysiology of several diseases, including acute lung injury and sepsis. High morbidity and mortality are associated with these diseases, and current successful therapies are limited. Thus, there is a great need to identify new therapeutic approaches.
Apigenin has no effect splenocyte apoptosis.
The increase of the number of cells undergoing apoptosis in the spleen has been suggested as a key factor of immune-dysregulation during acute inflammation. Previous studies using different animal models showed that LPS-induced inflammation leads to an increase in splenocyte apoptosis. To examine whether the survival conferred by apigenin in LPS-mice was due to a reduction of apoptosis, some independent approaches were used to evaluate cell death in spleens.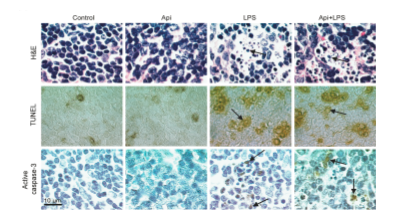 H&E staining (top), TUNEL (middle) and immunohistochemistry (IHC) for active caspase-3 (bottom) in spleens from control, Api, LPS and Api + LPS mice at 24 h.
Collectively, these findings demonstrate that the survival conferred by apigenin during inflammation is not mediated by a reduction of apoptosis in the spleens.
Apigenin decreased luciferase expression
The finding that apigenin improved acute inflammation without affecting apoptosis in spleens prompted them to investigate its mechanisms of action. They previously showed that apigenin reduces LPS-induced phosphorylation of the NF-κB p65 subunit in macrophages [32]. To examine if apigenin modulates NF-κB activity in vivo, they used transgenic mice expressing luciferase under the control of NF-κB responsive elements.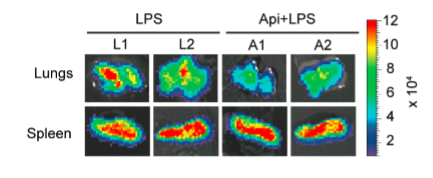 NF-κB-Responsive Elements-luciferase transgenic mice were treated with apigenin (50 mg/kg of body weight) or vehicle 3 h prior to the administration of 37.5 mg/kg LPS
Apigenin decreased LPS-induced luciferase expression in lungs, but had no effect on splenic luciferase levels
Apigenin reduced lung apoptosis
To investigate the effect of apigenin in inflammation-induced apoptosis, we evaluated the number of apoptotic cells in the lungs. An ~8-fold increase in apoptotic cells was observed in LPS mice as compared to controls or Api animals.

Lungs from mice treated with LPS, control, apigenin (Api) or apigenin 3 h prior to LPS (Api + LPS) were obtained at 24 h.
Apigenin reduces LPS-induced apoptosis in the lungs.
In this study, they investigated the immune-regulatory mechanisms of apigenin in vivo. They found that apigenin protected mice against LPS-induced mortality even during a 30-day period, suggesting a long-lasting effect in restoring homeostasis. Interestingly, apigenin-induced survival did not correlate with reduced splenocyte apoptosis, as indicated by histological, TUNEL assays, immune-histochemistry of active caspase-3 and flow cytometry studies.
However, they found that apigenin restored normal cardiac function and metabolic mitochondrial Complex I activity in LPS-treated mice. Using NF-κB-luciferase transgenic mice, they showed that apigenin effectively reduced LPS-induced NF-κB activity in vivo in an organ-specific manner. Apigenin also reduced LPS-induced neutrophil lung infiltration and chemokine production. These effects were accompanied by a decrease of LPS-induced lung apoptosis and the restoration of normal lung architecture.
Together, these studies provide evidence of the mechanisms underlying the immune-regulatory activity of apigeninin vivo and providing new insights in the ability of dietary compounds to conferorgan-specific regulation of NF-κB. Our findings suggest that dietary interventions have novel implications for the regulation of inflammatory diseases.